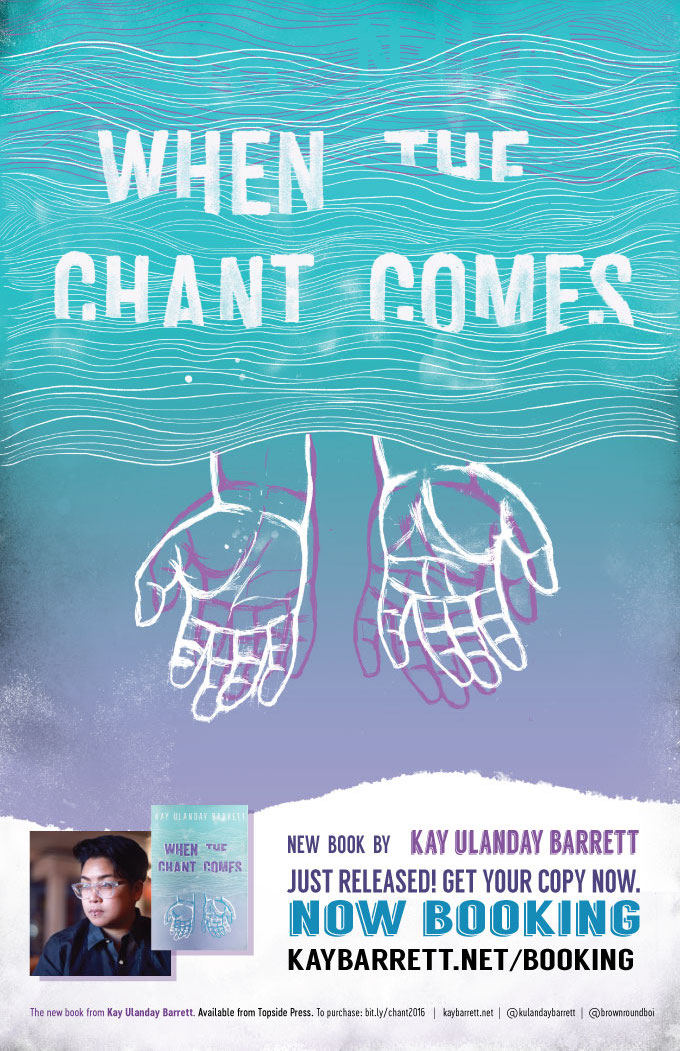 Contact: Cat@topsidepress.com
http://bit.ly/chant2016
Big thanks to every editor, writing circle, stage, & LJ post that bright this gift to me. The biggest props to designer & illustrator, Karen Campos Castilllo for this swoony cover art.
"This item will be released on September 5, 2016. Kay Ulanday Barrett has been bringing his unique poetry to audiences for over a decade, unpicking vital political questions around race, sickness and disability and gender, and chronicling the everydayness of life in the U.S. Empire with humor, poignancy and inimitable vitality.
Now at last a generous selection of his work will be available in print. Each of these poems is a brilliant little story. Taken together, they show a master craftsman at the top of his game. Pre-order them now." — TopsidePress.
[Description: book cover in hues of blue and purple ombre that shift in gradation. There are two hands raised to the title in silver and white waves. "When The Chant Comes" reads in purple bold capital letters.]
Praise for WHEN THE CHANT COMES
"When The Chant Comes is fire medicine for the Soul: it calls forth a re-calibration of these rageful times that we are living in. Get this book. Get your healing ya'll."

– Sharon Bridgforth, author of the bull-jean stories

"These poems are embodied, thick and fluid. Read them with your body and spirit on notice."

– Alexis Pauline Gumbs, author of Spill: Scenes of Black Feminist Fugitivity

"When the chant comes, we arise, relieved that we aren't alone. When the chant comes, we join in full-throated. When The Chant Comes is pure, queer love that refuses to apologize."

– Vivek Shraya, Author of She of the Mountains and God Loves Hair

These poems are songs–aching, beautiful, necessary songs that transport and transform.

– Eli Clare, author of Exile and Pride