Dearest ones!
Set On Freedom Arts Retreat at @QueensMuseum. What a brilliant first retreat! Today is going to be on fire working with #peopleofcolor & #Qtpoc artists doing their the damn thang! What a blessed time to connect with such amazing people in artistic process. With Orlando, the shock and loss of so many Black & Latinx Queer & Trans community, the ache of our artistic spaces
being uprooted, with global pain and attacks, with trans women of color being murdered more & more this 2016; this is what we deserved.  Thank you so much to my co-faclitators Silvia, Thanu, Simone?!, & Dominique for working on this 3-month long process that carved out necessary salve for space, reflection, sharing.

Subjects embodied/discussed:
transmisogyny & misogyny in working with theater/industrial/literary.studio spaces, what ways does depression & grief breathe in every creation you make?, white gaze on our brown & black art, how does tokenization isolate and maybe even profit us?, in what ways does class access to materials & resources shape our art, how do we remain of community & with integrity as we create/collaborate?, how do we bridge what we do with our families & communities that may not embrace our art/politics/gender/sexuality?, how do diasporic & migrant artists maintain home in their art space?, what does chronic pain & PTSD trauma do with you art & access to artistic practice? what ways can we pool resources for grants, studio space, community engagement?, if you can imagine yourself as an ancestor in the making, what ways will art uplift your world?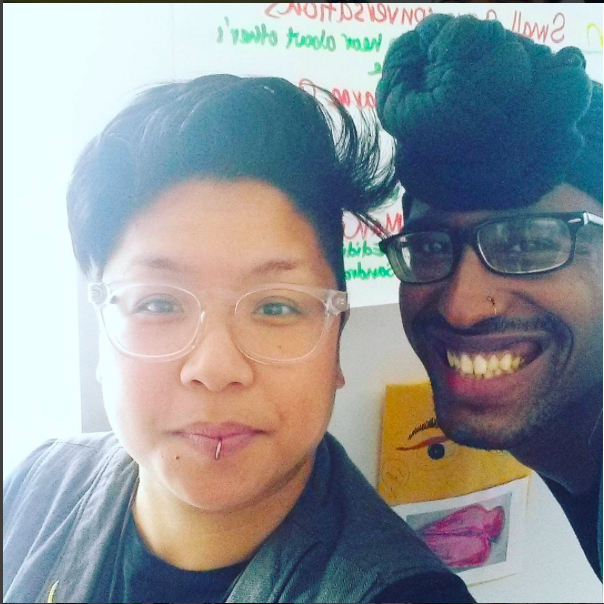 [Description: to the left, a brown round boi with glasses & to right, a black trans femme with glasses both smile in a selfie.] Tenderness & gratitude to be able to witness the the shine of @venusselenite! Support her work & by her new book, Trigger! Go to venusselenite.com