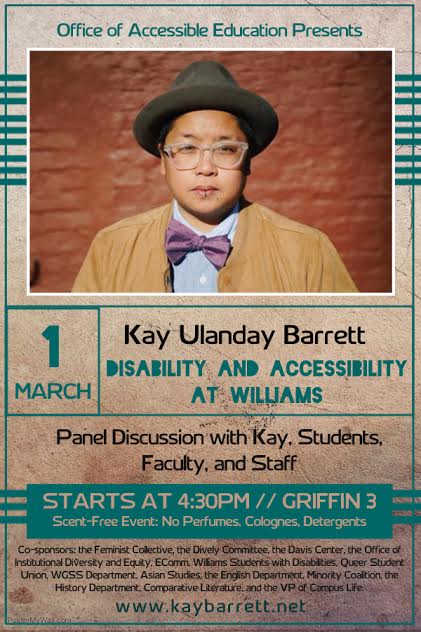 FEATURE: Kay Ulanday Barrett
Kay Ulanday Barrett is coming to Williams! On March 1st, at 4:30pm, Kay and the Office of Accessible Education will be hosting a panel in Griffin 3 speaking to disability and access at Williams and beyond, the specific ways these experiences and structural histories affect queer/trans people, people of color, and low-income folks. This is an event that will speak critically to ableism here and elsewhere, and provides ways to learn and improve our own communities. 

Access Notes: Please refrain from wearing any type of scent to the event, including perfumes, colognes, and scented detergent. The event will be a scent-free space. If you or anyone attending the event has access needs you would like accommodated, please contact Olivia Goodheart at ojg2@williams.edu.
This event is generously co-sponsored by the Feminist Collective, the Dively Committee, the Davis Center, the Office of Institutional Diversity and Equity, EComm, Williams Students with Disabilities, Queer Student Union, WGSS Department, Asian Studies, the English Department, Minority Coalition, the History Department, Comparative Literature, and the VP of Campus Life.